Map State

West Sheet, W 1840/2

Australia from surveys made by order of the British Government

AUSTRALIA FROM SURVEYS MADE BY ORDER OF THE BRITISH GOVERNMENT COMBINED WITH THOSE OF D'ENTRECASTEAUX, BAUDIN, FREYCINET, &c, &c BY JOHN ARROWSMITH. 1840.
London, Pubd. 1st May 1840, by John Arrowsmith, 10 Soho Sq.

[WEST SHEET] Extent E 112° TO E 137°30'
OVERLAP
The sheets are designed to be joined along E 134°. On the west sheet the area between E 134°and E 137°30' is not fully updated
INSET:
Bottom right. [Eastern hemisphere]
Description
Shows
IMPRINT:
Change of address to 10 Soho Sq.
COLONIES:
SOUTH AUSTRALIA, WESTERN AUSTRALIA
REGIONS:
ARNHEM LAND, TASMAN LAND, DAMPIER LAND, DE WITT LAND, ENDRAGT LAND, EDEL LAND, VLAMING LAND, LEEUWIN LAND, NUYTS LAND, VICTORIA
COUNTIES: WESTERN AUSTRALIA
Twenty-six counties are shown which are numbered and listed in table bottom left.
BOUNDARIES:
The boundary between New South Wales and Western Australia shown at 129°E. The territorial limits of the Colony of Western Australia first formally defined by Letters patent dated 4th March 1831. Prior to that date the western boundary of New South Wales was by Letters patent of 6th July 1825, proclaimed at Sydney 20th Dec. 1825 extended to 129°E).
The western boundary of South Australia is shown at 132°E declared on 28th December 1836. (McLelland, M. H. 1971, p. 672-4, 677)
EXPLORERS:
George Grey and Franklin Lushington Dec. 1837- April 1838, George Grey 1839, John Lort Stokes 1837-38
NOTES ON COASTS
See West 1838/1
REFERENCE:
Tooley T 82
NOTES
Northern Territory
In the 1840/1 state of the map Victoria is inserted on the Coburg Peninsula. Coburg Peninsula is shortened to Coburg Pa.
Western Australia
The first 1838 issue of the map is notable for its blank interior. Almost all the information is coastal in nature except for the south-west corner of the continent.
In the 1839/1(1838/2) state of the map the name WESTERN AUSTRALIA has been added to the map. Fifteen counties are named and delimited on the map with the exception of Kent which lacks northern and eastern limits.
Also in this state of the map new names appear from Lieut. Lort Stokes survey in King Sound. He has renamed the Sound in honour of Phillip Parker King who had previously named it Cygnet Bay. The following names appear; Beagle Bay, King Sound, Roe's I., Hope Inlet, Disaster B. Valentine I., Fitzroy R., Mary I., Pt. Torment, Stokes Bay and Port Usborne. (Hordern, Marsden 1989, p.62, 63 map, 72 and 82 and loose map)
Names appear following George Grey's expedition to Hanover Sound (Dec.1837) accompanied by five men one of whom was his close friend Lt. Franklin Lushington. The course of the Glenelg River appears and also shown are Lushington's farthest and Lt. Grey's farthest. (Cannon, Michael 1987, p. 186)
In the 1840/1 state of the map the number of counties has been increased to 26 names which are now numbered and listed separately in a table. This state shows the increase in knowledge of the area east and south of Perth. An explorer's track is shown east of Perth to Lake Brown and then west to the Moore River. The northern boundary of Twiss County has been adjusted southwards.
Moving down the west coast on the land opposite Jurien Bay a note appears Three rocky hillocks on the ridge.
Also in the west Kimberley area in King Sound the following names have been added from Lort Stokes work on this coast in the Beagle during 1838; Cone Bay, Saddle Hill and Compass Hill on the eastern shoreline. Stephen Ra is inserted across the mouth of the Glenelg R. Relief now shown by hachures.(Cannon, Michael 1987, p. 186)
In the area where the Fitzroy R. debouches into King Sd. is found the comment Thick forest, trees large, further east at Collier Bay two comments have been removed from the hinterland of Collier Bay. The names Doubtful Bay inserted above Collier Bay and Slate Is. (nr. Camden Sound). (Hordern, Marsden 1989, p.62, 63 map, 72 and 82 and loose map)
New developments are shown as far east as almost 119°E.
Changes AND ADDITIONS
IMPRINT:
Change of address to 10 Soho Sq.
Otherwise map remains the same.
Key Dates
1616 - 1840

Situation date

May 1840

Map Publication Date
Institutional and Other Holdings
Library of Congress, Geography and Map Division
The London Atlas of Universal Geography, exhibiting the physical & political divisions of the various countries of the world, constructed from original materials, 1840, G1019 .A8 1840 Vault fol. Copy

1

; Library of Congress, Geography and Map Division. Details
National Library of Australia Map Collection
Australia [cartographic material] : from surveys made by order of the British Government combined with those of D'Entrecasteaux, Baudin, Freycinet etc etc. / by John Arrowsmith 1840, MAP T

82

; National Library of Australia Map Collection. Details
Australia from surveys made by order of the British Government [cartographic material] : combined with those of D'Entrecasteaux, Baudin, Freycinet &c. &c. / by John Arrowsmith, MAP RM 783 (Copy

1)

; National Library of Australia Map Collection. Details
Australia from surveys made by order of the British Government [cartographic material] : combined with those of D'Entrecasteaux, Baudin, Freycinet &c. &c. / by John Arrowsmith, MAP RM

783-2

; National Library of Australia Map Collection. Details
State Library of Western Australia
Australia from surveys made by order of the British Government [cartographic material] : combined with those of D'Entrecasteaux, Baudin, Freycinet &c. &c. / by John Arrowsmith., 1st Floor Map Stack

8960

; State Library of Western Australia. Details
Published resources
Books
Cannon, Michael, The exploration of Australia, Reader's Digest, Sydney, 1987, 304 pp. Details
Hordern, Marsden, Mariners are warned! : John Lort Stokes and H.M.S. Beagle in Australia 1837-1843, Melbourne University Press at the Miegunyah Press, Carlton, Victoria, 1989, 359 pp. Details
Tooley, Ronald Vere, The mapping of Australia and Antarctica, Holland Press, London, 1985, 649 pp. Details
Journal Articles
McClelland, M. H., 'Colonial and state boundaries in Australia', The Australian Law Journal, vol. 45, November 1971, p. 679. Details
Images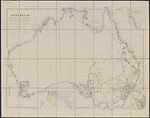 Title

Australia from surveys

Type

Map

Repository

National Library of Australia Map Collection
Dorothy F. Prescott
Created: 10 January 2012, Last modified: 3 July 2012