Map State

The Colony of Western Australia, 1839/2

The Colony of Western Australia; from the surveys of John Septimus Roe, Esqr. , Surveyor Genl. and from other Official Documents in the Colonial Office and Admiralty, compiled by John Arrowsmith. [Pl.] 36. Scale [ca. 1:970 000 at 35°S]. S 30° 57'-S 35° 07'/E 113° 40'-E 120° 03'. London, Pubd. Octr. 1st. 1839 by J. Arrowsmith, 35 Essex Street, Strand.
1 map : col ; 50.0 x 61.0 cm.
Insets: Guildford, [Perth region], Kelmscott, Augusta, Perth, Fremantle
Description
Shows 26 counties in the south-western portion of the Colony with explorers' tracks and profuse notes on landscape and vegetation. Some landholders identified.
PLATE NO:
36
INSETS:
Guildford, [Perth region], Augusta, Kelmscott, Perth, Fremantle
Guildford
North-east of Perth shows landholders W. Tanner and J. Stirling north of the Swan River and to the west of the Swan, W. Tanner, S. Dodds, F. H. Byrne, Capt. Picking and N. S. Talbot. The Helena River flows into the Swan from the east. Public buildings and streets named.
[Perth region]
Extends from north of Guildford south to Cockburn Sound and east to Kelsmcott.
Shows the Swan, Helena and Canning rivers and surveyed allotments. Some landholders' names appear.
Augusta
Plan of the town at the mouth of the Blackwood River land allotments shown fronting Flinders Bay.
Kelmscott
Plan of the settlement shown on the right bank of the Canning River with allotments laid out along the river bank.
Perth
Town plan shows allotments fronting the Swan River. St Georges Terrace named. Large areas of swamps behind the front streets overlie allotments. To the east along the right bank of the Swan are land holdings in the names of P. Brown, W. T. Graham, A. H. Stone, W. B. Andrews and P. Wicks. A burial ground is marked east of the town.
Fremantle
Town plan with streets and land allotments laid out and public areas designated.
COUNTIES:
MELBOURNE, GLENELG, GREY, CARNARVON, LANSDOWNE, DURHAM, VICTORIA, TWISS, PERTH, YORK, HOWICK, BEAUFORT, MINTO, GRANTHAM, MURRAY, WELLINGTON, WICKLOW, PEEL, HAY, GODERICH, NELSON, SUSSEX, LANARK, STIRLING, PLANTAGENET AND KENT
EXPLORERS' ROUTES:
Shows the routes of Lt. W[illiam] Preston, Dr. A[lexander] Collie, Ens. Robert Dale, Lt. A. Erskine, Capt. M[ark] J[ohn] Currie, Govr. James Stirling, J[ohn] S[eptimus] Roe, J[ohn] G[arrett] Bussell, Capt. Thomas Bannister, Dr. T[homas] B[raidwood] Wilson, G[eorge] F[letcher] Moore, G. F. Moore and Brown [Peter Broun] (A.D.B. 1788-1850, v. 1, p. 165), Lt. [Henry William St Pierre] Bunbury and A[lfred] Hillman.
REFERENCE
T 127
NOTES
The 1839/1 state is the first remodeling of the Discoveries map, which was the earlier state of this new title. It has been extensively revised and includes many new place names including places such as Rockingham, Pinjarra, Picton, Bunbury and Busselton on the west coast. On the south coast Normalup, Rame Hd., Irwin Inlet, Dillon Bay, Bremer Bay and Pt. Hood among others. New rivers flowing to the sea are the Lennox, Vasse and Capel into Geographe Bay and the estuary of an un-named river east of Pt. Knob. Rugged ranges north of Abany named the Stirling Ranges.
The coast line is greatly altered and many new features named.
Land allotments appear in the Swan, Avon and Toodyoy valleys, near Pinjarra and the Murray River, on the west coast at Busselton and near Picton, Waterloo and Williamsburg. Other blocks are shown near Albany and Wyndham and in the Vale of Kalgan.
New discoveries include the tracks of A. Collie in 1832 up a tributary of the Swan River and back via the Swan, this possibly being an examination of the 1500 acres granted to him.
G. F. Moore's May 1836 explorations are shown north from Guildford to the Moore R. then south-west following the river and thence south-east back to Guildford. A second exploration is shown north-east of Guildford to Northam and beyond with Brown [Peter Broun] in 1836.
J. S. Roe's journey is shown from Albany west and then north-east before turning north-west in Nov and Dec. 1835. Pushing inland J. S. Roe's track appears Oct/Nov 1836 east of Perth from York to the Glenelg Hills thence north to latitude 31°45'S and from thence westward to the Moore R and thence southward to Guildford.
Tracks of Lt. Bunbury in Oct 1836 between Beverley and Williamsburg are shown.
A. Hillman's tracks from Pinjarra on the west coast eastward to Williamsburg in January 1835 appeared, and his route west of Albany towards Pt Nuyts in July 1833.
Lt. W. Preston's track shown from Augusta to the north in vicinity of Vasse Inlet in 1831.
The supposed track of convicts overland from Albany to Geographe Bay is removed.
CHANGES AND ADDITIONS
There is no change to the map content.
PLATE NO:
The plate number 36 is printed lower right margin
Key Dates
1829 - 1839

Situation date

1 October 1839

Map Publication Date
Institutional and Other Holdings
All Souls College Library, Oxford
National Library of Australia Map Collection
Royal Geographical Society
Sir George Grey Special Collections, Auckland Libraries
State Library of Victoria, Rare Books
State Library of Western Australia
The University of Melbourne Library, Special Collections
Published resources
Books
Tooley, Ronald Vere, The mapping of Australia and Antarctica, Holland Press, London, 1985, 649 pp. Details
Images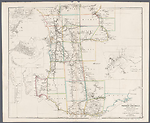 Title

The Colony of Western Australia, 1839/2

Type

Map

Repository

National Library of Australia Map Collection
Dorothy F. Prescott
Created: 3 August 2010, Last modified: 3 July 2012