Map State

Discoveries in Western Australia, 1833/7 (1838/2)

Discoveries in Western Australia from documents furnished to the Colonial Office by J. S. Roe, Esqre. Surv. Genl. / compiled by John Arrowsmith. [Pl. 36]. Scale [ca. 1:970 000 at S35°]. S31°00'--S35°07'/E113°53'-E120°15'. London, Pubd [space]1838 by J. Arrowsmith, 35 Essex Street, Strand.
1 map : col. ; 50.0 x 61.0cm.
Insets: Guildford, Augusta, Kelmscott, Perth, Fremantle
Note: Remarks by His Excellency Sir Jas Stirling.
Description
Shows
TITLE:
The title remains as in the previous state of the map without dedication.
PLATE NO.:
There is no plate number
IMPRINT:
The imprint now reads London, Pubd [space] 1838 by J. Arrowsmith, 35 Essex Street, Strand.
INSETS:
Guildford
North-east of Perth shows land holders W. Tanner and J. Stirling north of the Swan River and to the west of the Swan, W. Tanner, S. Dodds, F. H. Byrne, Capt. Picking and N. S. Talbot. The Helena River flows into the Swan from the east. Public buildings and streets named.
Augusta
Plan of the town at the mouth of the Blackwood River, land allotments shown fronting Flinders Bay.
Kelmscott
Plan of the settlement shown on the right bank of the Canning River with allotments laid out along the river bank.
Perth
Town plan shows allotments fronting the Swan River. St Georges Terrace named. Large areas of swamps behind the front streets overlie allotments. To the east along the right bank of the Swan are land holdings in the names of P. Brown, W. T. Graham, A. H. Stone, W. B. Andrews and P. Wicks. A burial ground is marked east of the town.
Fremantle
Town plan with streets and land allotments laid out and public areas designated.
NOTE
Lower left:
Remarks by His Excellency Sir James Stirling relate to landscape description and the names of the districts none of which have been regularly surveyed or defined.
COUNTIES:
TWISS, PERTH, YORK, MURRAY, GRANTHAM, WELLINGTON, WICKLOW, SUSSEX, NELSON, GODERICH, HAY, LANARK, STIRLING, PLANTAGENET AND KENT
EXPLORERS' ROUTES:
Shows the routes of Lt. William Preston, Dr. Alexander Collie, Ens. Robert Dale, Lt. A. Erskine, Capt. Mark John Currie, James Stirling, John Septimus Roe, John Garrett Bussell, Capt. Thomas Bannister, Dr. Thomas Braidwood Wilson and convicts
REFERENCE:
F 2510
Not in Tooley
NOTES
Shows the south-western tip of Western Australia from 31°S to 35°S and from the west coast inland to 120°E. Coastal explorations shown include Lt. W. Preston in the Colonist north from Fremantle in Nov. 1830, and with Dr. A. Collie south to the Bay du Geographe in 1829.
East and north of Perth are explorations by Ens. R. Dale in Oct. 1830 and 1831 of the Swan, Helena and Avon valleys. Lt. A. Erskine's route in 1830 is parallel and north of Ensign Dale's 1830 track from the Swan to the Avon valleys.
Capt. M. J. Currie's [1829] track going south from Cockburn Sound to Peel Inlet and returning appears.
Govr. James Stirling and J. S. Roe's [1830] tracks examining the Preston and Collie rivers flowing into Leschenault Inlet are marked.
A supposed track of convicts from King Georges Sound going north-west to the Vasse Inlet in 1830 appears.
In the south-west region the tracks of J.G. Bussell, from Vasse Inlet south to Augusta and back, in 1831 are shown.
An overland route established by Capt. T. Bannister's explorations from Fremantle to the south coast at Albany in Feb. 1831 appears.
Also in the vicinity of Albany the tracks of Dr. T. B. Wilson a naval surgeon, from Albany west as far as Wilson Inlet and north to the vicinity of present day Kendenup and back to Albany in 1829, are shown. In the same area Dr. A. Collie's track in April 1831 is sown as a circular route north and west of Wyndham.
Govr. James Stirling and J. S. Roe's route northwest of Albany in 1831 is marked and their track in the H.M.S. Sulphur travelling east from Albany along the south coast to C. Knob (119°15'E).
Ensign Dale's route from Albany north to the ranges and back in 1832 is also marked.
Lt. W. Preston's route is shown travelling west in 1831 along the south coast to Green Pt. by boat after disembarking from H.M.S. Sulphur just east of Rame Pt (Irwin Inlet) where his boat was wrecked. From this point the journey was overland via Augusta, Vasse Inlet and up the west coast to the Murray River (32°25'S) and the north to Cockburn Sound.
Changes AND ADDITIONS
PLATE NO:
No printed plate number appears.
IMPRINT:
The imprint has the day and month removed leaving only the year '1838'. i.e. London, Pubd [space] by J. Arrowsmith, 35 Essex Street, Strand.
Key Dates
1829 - 1833

Situation date

1838

Map Publication Date
Institutional and Other Holdings
Cambridge University Library
Mitchell Map Collection, State Library of New South Wales
National Library of Australia Map Collection
Royal Geographical Society
The University of Melbourne Library, Special Collections
Published resources
Books
Images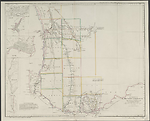 Title

Discoveries in Western Australia, 1833/7 (1838/2)

Type

Map

Repository

National Library of Australia Map Collection
Dorothy F. Prescott
Created: 3 August 2010, Last modified: 31 August 2012