Map State

Australia, East 1887

Stanford's London Atlas of Universal Geography

AUSTRALIA, EAST. [PL.] 81. Scale 1: 5 068 800.
London: Edward Stanford, 55 Charing Cross, SW. Stanford's Geographl. Establisht., 55 Charing Cross. [1887]

EAST SHEET Extent E130° to E156°
OVERLAP
The overlap of east and west sheets occurs from longitude E130°- E137°. The joining line for the two sheets is E134°. Information in the area E134° to E137° is not updated on the east sheet indicating that the cartographer had designed the map in two sheets to be joined.
Description
Shows:
PLATE NUMBER:
The plate number 81 appears lower right hand corner at right angles to the bottom border.
IMPRINT:
The position of the map imprint remains beneath the lower neat line, centre and right. The words 'Published by' have been omitted from the imprint. No date of publication is given.
SCALE:
Two linear scales for nautical and statute miles are shown
LEGEND:
Appears lower left below the scale showing roads, railways, telegraph lines, tracks of travellers and numbered heights,
IN:
Stanford's London Atlas of Universal geography. Folio Ed. London: Edward Stanford, 55 Charing Cross, S.W. [1887.]
COPY:
The copy being described is in an atlas acquired 24th September 1887 by the State Library of Victoria.
COLONIES:
QUEENSLAND, NEW SOUTH WALES, VICTORIA, SOUTH AUSTRALIA
REGIONS:
URANEA, CAPE YORK PENINSULA, Yorke Peninsula and Eyre Peninsula
COUNTIES: (NORTHERN TERRITORY)
PALMERSTON, DISRAELI, GLADSTONE
PASTORAL DISTRICTS: (QUEENSLAND)
COOK, NORTH KENNEDY, BURKE, SOUTH KENNEDY, MITCHELL, NORTH GREGORY, SOUTH GREGORY, WARREGO, MARANOA, LEICHHARDT, BURNETT, PORT CURTIS, WIDE BAY and MORETON, DARLING DOWNS
PASTORAL DISTRICTS: (NEW SOUTH WALES)
CLARENCE, GWYDIR, MACLEAY, NEW ENGLAND, LIVERPOOL PLAINS, WARREGO, BLIGH, WELLINGTON, LACHLAN, ALBERT, DARLING, MURRUMBIDGEE and MONARO
PASTORAL DISTRICTS: (SOUTH AUSTRALIA)
NORTH-WESTERN, NORTH AND NORTH-EASTERN, WESTERN, MIDLAND, SOUTHERN, EASTERN AND SOUTH-EAST
SQUATTING DISTRICTS: (VICTORIA)
WIMMERA, LODDON, MURRAY, GIPPSLAND
EXPLORERS:
Robert Dixon 1833, Edmund Kennedy 1848, John McDouall Stuart 1858, 1861, 1862, William Landsborough 1861, Ernest Giles 1872 & 74, William Harry Tietkens and Jesse Young 1875, John Ross 1870 and William Harvey, surveyor, 1870, Charles G. A. Winneke 1884, David Lindsay 1884
COASTS:
PACIFIC OCEAN now appears top right hand side of map and lower bottom, with INDIAN OCEAN located under South Australian coastline.
REFERENCE:
Herbert, Francis (1989) The 'London Atlas…' pp. 106-109.
NOTES
Northern Territory
In the 1887/1 issue a new undefined area name URANEA is shown on the Tropic of Capricorn.
At 23°S/137°E and 138°E the Tarlton Range and the Cairns Range appear.
Queensland
In Queensland the 1887/1 issue shows further exploration of the upper reaches of the rivers Gregory, Leichhardt, (the McIntyre, Nora and Hurley creeks), Herbert, Gilbert, Norman and Flinders with new tributaries shown . Two large tributaries of the Herbert are shown, the Hay R. and the Field R almost on the NT/QLD border.
Railway development is closely related to the discovery and development of mineral fields. This state shows the extension of lines first appearing in the 1884/1 state e.g. Brisbane to Mitchell line extended to Morven (1/1887).
A short line from Brisbane to Esk (8/1886) and another from Gympie (6/1889) due north via Maryborough (6/1881) to Howard appear. On the coast a line goes inland from Burnett to Mt. Perry (5/1884).
From Rockhampton inland this rail line extended from Emerald shown in 1884 issue to Barcaldine Downs (1/1886).
A very short line from Mackay on the coast alongside the Pioneer River to Hamilton (5/1886) appears on the coast.
Further north lines from Townsville go inland to Cape River Gold Field and Mt Remarkable with a branch line to Ravenswood.
New South Wales
In the 1887/1 issue the NSW railway development is similar with lines being extended further inland. The Sydney-Bathurst-Orange line extended to Bourke (8/1885) on the Darling River. A short line on the coast appears between Sydney and Kiama.
A branch line from the Sydney Bathurst line goes north-east to Cudgegong.
A branch line from 'Orange' to Molong is shown (12/1885) The Sydney to Newcastle line reaches Hexham where it is joined by a line from Newcastle. The line from Newcastle now linked via Maitland and Singleton to Narrabri.
A line going south from Sydney now reaches Hay on the Murrumbidgee with a branch from Goulburn to Cooma.
Albury-Morven-Guys Station line removed. A branch line from Narrandera to Jerilderie appears.
Victoria
In the 1887/1 issue the Melbourne -Albury rail line branch to Everton extended to Myrtleford (12/1883). Benalla is linked to St James (1883) and Shepparton to Numurka appears (1881) and a branch line from Seymour to Yea appears.
In the south-east the line from Melbourne to Sale has a branch from Trafalgar to Maffra.
To the west of Melbourne a new line under construction from Melbourne to Ballarat has reached the Little River area. [Sunshine] to [Bacchus Marsh] (2/1887). There is a gap between Gordon and Little River [Parwan] (4/1886)
The Melbourne-Castlemaine-Sandhurst (Bendigo)-Mitiamo line is extended to Kerang (10/1884). The Melbourne-Castlemaine-Bendigo-Korong Vale line is extended from Charlton to Wycheproof (10/1883).
In the south-west the line from Dimboola extended across the Vic/South Australia border (1/1887).
South Australia
In the 1887/1 issue at the Queensland /South Australia junction 26°S/138°E a string of lakes running north-west to south-east are shown as L. Thomas, L. Poeppel, L. Florence, L. Dobbie and Goyder Lake.
Eyre Peninsula replaces EYRE LAND (an Arrowsmith hangover) which was removed from the 1884 state.
The pastoral districts are now shown. See above.
Railways now link Adelaide across the River Murray at Murray Bridge and south-east to Bordertown, Tatiara and across the border to Victoria.
CHANGES AND ADDITIONS
TITLE:
The title appears top centre outside the neat line.
PLATE NO:
The plate number 81 appears lower right hand corner at right angles to the bottom border.
IMPRINT:
The position of the map imprint remains beneath the lower neat line, centre and right. The words 'Published by' have been omitted from the imprint. No date of publication is given.
PASTORAL DISTRICTS: (SOUTH AUSTRALIA)
Now appear. See above.
EXPLORERS:
Charles G. A. Winneke, explorer and botanist, David Lindsay, surveyor and explorer
Further rail development described.
Institutional and Other Holdings
Library of Congress, Geography and Map Division
London atlas of universal geography, exhibiting the physical and political divisions of the various countries of the world., 1887, G1019 .S822 1887

(G&M)

; Library of Congress, Geography and Map Division. Details
National Library of Australia Map Collection
Stanford's London atlas of universal geography exhibiting the physical and political divisions of the various countries of the world., 1887, MAP Ra 186; National Library of Australia Map Collection. Details
State Library of Victoria, Maps Collection
Images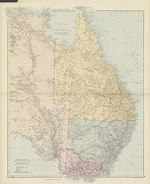 Title

Australia, East 1887

Type

Map

Repository

National Library of Australia Map Collection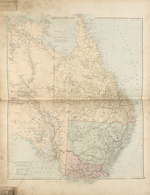 Title

Stanfords London atlas

Type

Map

Date

1887

Repository

State Library of Victoria, Maps Collection
Dorothy F. Prescott
Created: 23 April 2015