Map State

Eastern Portion of Australia, East 1838/2

Australia from surveys made by order of the British Government

Eastern portion of Australia by John Arrowsmith.
London, Pubd. 1st May 1838, by John Arrowsmith, 35 Essex St., Strand.

EAST SHEET Extent E 130° to E 154°
OVERLAP
The sheets are designed to be joined along E 134°.The overlap of east and west sheets occurs from longitude E 130°- E 137°. Information in the area E 130° to E 134° is not updated on the east sheet indicating that the cartographer had designed the map in two sheets to be joined.
Description
Shows
IMPRINT:
On some issues Arrowsmith's imprint has been pasted over with a label reading G. Cruchley, Map Seller & publisher, 81 Fleet Street from 38 Ludgate Street London. [n.d.]
COLONIES:
NEW SOUTH WALES, SOUTH AUSTRALIA
REGIONS:
ARNHEM LAND, AUSTRALIA FELIX
TABLE: COUNTIES.
The nineteen counties in New South Wales are delineated and numbered on the map and listed in a marginal table.
BOUNDARIES:
South Australia extends from 26°S to the south coast and from 132°E to 141°E.
NOTES ON COASTS
See East sheet, 1838/1 imprint, first state
REFERENCE:
Tooley T 81/2
NOTES
Northern Territory
In state 1838/2 Victoria appears on the Coburg Peninsula. Coburg Peninsula changed to Coburg Pa (132°E)
New South Wales
The 1838/1 state of the map shows the principal river systems of the Murray, Murrumbidgee, Lachlan and the Darling, Bogan, Macquarie, Namoi, Gwydir, Dumaresq and Condamine. There are notes on Mitchell's furthest north and south on the Darling 1832, Sturt and Hume's farthest north on the Darling, March 1829, and Oxley's furthest west on the Lachlan 1817. Sturt's Depot is shown on the Murrumbidgee from whence he descended the Murrumbidgee and Murray Rivers to the sea in 36 days and returned in 40 days. Dixon's furthest west 1833 (just west of the Bogan R.) and the spot where Richard Cunningham was killed (just west of the Bogan R.) also marked.
Victoria
T. L. Mitchell's expeditions from Sydney to western Victoria (Glenelg R.) appear in the 1838/1 state of the map. AUSTRALIA FELIX named by him.
Changes AND ADDITIONS
IMPRINT:
On some issues Arrowsmith's imprint has been pasted over with a label reading G. Cruchley, Map Seller & publisher, 81 Fleet Street from 38 Ludgate Street London. [n.d.]
NOTES
Northern Territory
Same as East sheet, 1838/1 imprint, but with the addition of Victoria on the Coburg Peninsula. Coburg Peninsula changed to Coburg Pa (E132°)
Key Dates
1606 - 1838

Situation date

May 1838

Map Publication Date
Institutional and Other Holdings
National Library of Australia Map Collection
Australia from surveys made by order of the British Government [cartographic material] : combined with those of D'Entrecasteaux, Baudin, Freycinet &c. &c. / by John Arrowsmith, MAP RM

4250

; National Library of Australia Map Collection. Details
Eastern portion of Australia [cartographic material] / by John Arrowsmith, 1838, MAP T

81/2

; National Library of Australia Map Collection. Details
State Library of Western Australia
Australia from surveys made by order of the British Government, combined with those of D'Entrecasteaux, Baudin, Freycinet &c. &c. [cartographic material] / by John Arrowsmith, 1840., 3rd Floor Map Stack 24/4/4

RARE

; State Library of Western Australia. Details
Published resources
Books
Tooley, Ronald Vere, The mapping of Australia and Antarctica, Holland Press, London, 1985, 649 pp. Details
Images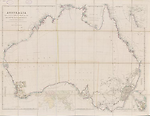 Title

Australia from surveys

Type

Map

Repository

National Library of Australia Map Collection
Dorothy F. Prescott
Created: 15 July 2011, Last modified: 3 July 2012