Map State

Maritime Portion of South Australia, 1839/3

The maritime portion of South Australia: from the surveys of Captn. Flinders & of Col. Light, Survr. Genl. by John Arrowsmith. -- Scale [ca. 1:1 350 000 at 36° S] (S 32°-S 38° 15'/ E 132°-E 141°). -- London, Published February 5th.1839, by John Arrowsmith, 10 Soho Square, Strand. -- 1 map : col. ; 51.0 x 63.5 cm.

Insets: Top right: Top right: Sketch of Encounter Bay by Colonel Light and B. T. Finniss Esqr. 1838 - Lower right: Sketch of Nepean Bay and Kingscote Harbour - Centre bottom: The city of Adelaide with acre allotments numbered, surveyed by Col. Light - At left: [Gulf of St. Vincent]
Description
PLATE NO:
There is no plate number printed on these maps. Those maps which are recorded as having plate numbers shown beside them may have had this number added in ms. to either the recto or the verso of the sheet in the atlas in which they have been recorded.
IMPRINT:
Address changed to 10 Soho Square
INSET: Encounter Bay.
In this 1839/3 state of the map a new inset appears in the top right hand corner of the map: Sketch of Encounter Bay by Col. Light and B.T. Finniss Esqr. 1838. This plan shows Victor Harbour and Rosetta Harbour, a proposed town and allotments of land laid out for sale.
NOTES
The 1838/2 state of the map shows South Australia from 32° S southwards and includes both the western and eastern boundaries of the Colony. As the title suggests the information is mainly coastal in nature. Three inset maps fill the offshore area. They are Sketch of Nepean Bay and Kingscote Harbour by Wm. Chesser, The city of Adelaide with acre allotments numbered, surveyed by Col. Light, and [Gulf of St. Vincent].
The mouth of the Murray River shows Hindmarsh Island and in Lake Alexandrina soundings are shown at the narrow neck on which Pt. Sturt and Pt. McLeay appear. To the west of Lake Alexandrina Hindmarsh R. is now named. Also in this area are Small Hr. and Seal R. and Wright I. Mt. Wakefield appears on the south coast of the Fleurieu Peninsula.
In the 1838/2 state of the map the inset Gulf of St Vincent showed new information added on the south coast. Wakefield Ms. named on the south coast of the Fleurieu Peninsula. Wright I. replaced Sugar Loaf. Rosetta Hr. was moved further south-west and its previous location is now called Victor Hr. Granite I., Rocky Pt. and Capel Sd. all appeared. Kangaroo R., Hindmarsh R. and Currency Cr.
In the 1839/1 state of the map a number of new streams are shown, namely, Ormsby R., Anstey R., R. Todd, R. Hallet and one un-named stream as north flowing tributaries of the Torrens River. Further south Brownhill R. and R. Sturt are shown.
In the 1839/3 state only the address is changed.
PRELIMINARY ISSUE:
A prototype was issued in May 1838 which appears to be a preliminary proof lacking the main title and the title to the inset of Adelaide which are present in further states.
See A New Map of South Australia.
Changes AND ADDITIONS
IMPRINT:
Has change of address to 10 Soho Square. No other changes.
Key Dates
1802 - 1838

Situation date

5 February 1839

Map Publication Date
Institutional and Other Holdings
National Library of Australia Map Collection
State Library of South Australia
The Maritime Portion of South Australia [cartographic material] : from the surveys of Captn. Flinders & of Col. Light, Survr. Genl. / by John Arrowsmith, 1839, rbr

325033

; State Library of South Australia. Details
Published resources
Books
Tooley, Ronald Vere, The mapping of Australia and Antarctica, Holland Press, London, 1985, 649 pp. Details
Images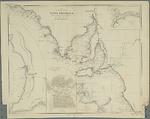 Title

Maritime Portion of South Australia, 1839/3

Type

Map

Repository

National Library of Australia Map Collection
Dorothy F. Prescott
Created: 9 September 2010, Last modified: 29 October 2019