Map Summary

Cockburn Sound

Cockburn Sound by J. S. Roe, Esqr., Survr. Genl. of the Colony of Western Australia has been found in three states, the first of which is a separately published map. In this format it has beneath it the chart of King Georges Sound. From its appearance it has the hall marks of an Arrowsmith issue although the particular copy seen had no attribution. (National Library of Australia NK 11133).

Cockburn Sound provides the approaches to the Swan River, the infant settlement established in 1826 on the south-west coast of Australia. One can assume that the purpose of this chart along with that of King Georges Sound was to provide nautical information concerning the two most important settlements at that period, namely Perth on the south west coast and Albany on the south coast of Western Australia.

Before his appointment as Surveyor General of Western Australia John Septimus Roe had been a naval hydrographer serving with the British Admiralty. He had been given leave by the Admiralty to take up the position of Surveyor General (Uren, 1967, p. 391). One of his first tasks after arriving in the settlement in June 1829 was to make this survey of Cockburn Sound.

The Hydrographic Office original of this survey is dated August 1st 1831.
In the second state (1833/2) the present chart is found with King Georges Sound and the map Discoveries in Western Australia on one separately issued sheet with the plate number '36'. It has not been seen in this physical format in the Atlas and must have been produced from two plates placed alongside each other, or perhaps, joined by some other unknown agency after publication. The imprint is 'London, Pubd. 31st May 1833 by J. Arrowsmith, 33 East Street, Red Lion Square' for the two charts, but for the Discoveries map the imprint reads '35 Essex Street, Strand' with the same date.

These two charts of Cockburn Sound and King Georges Sound are also found as a later issue dated Jany. [space] 1840, 10 Soho Square' but this exemplar is of a separately issued sheet, with the plate number '35a' which is found as a loose sheet in the atlas (Phillips, item 4322). This state has considerable amendments to the internal information on the charts.

The Cockburn Sound chart is amended by Arrowsmith from information supplied by Sir James Stirling the first Governor of Western Australia. The lower chart is an amendment of Matthew Flinders' original of King Georges Sound, the entry to the port of Albany.
Related entries
Published resources
Books
Phillips, P.L., A list of geographical atlases in the Library of Congress, vol. IV, Government Printing Office, Washington, 1920. Details
Book Sections
Images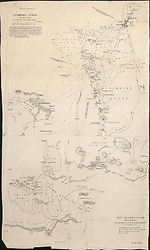 Title

Cockburn Sound 1833/1 and King Georges Sound 1833/1

Type

Map

Repository

National Library of Australia Map Collection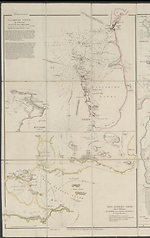 Title

Cockburn Sound, 1833/2

Type

Map

Repository

National Library of Australia Map Collection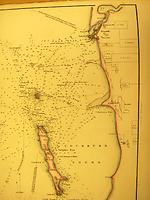 Title

Cockburn Sound, 1840/1

Type

Map

Repository

Library of Congress, Geography and Map Division
Dorothy F. Prescott
Created: 4 August 2010, Last modified: 21 March 2013