Map State

Van Diemens Land, 1832/1

Van Diemens Land by J. Arrowsmith. [Pl.] 36. London, Pubd. 15 Feby. 1832 by J. Arrowsmith, 33 East Street, Red Lion Square. Scale [ca.1: 633 600]. -- 1 map : col. ; 60 x 49.5 cm.
Description
Shows:
PLATE NO:
36
POLICE DISTRICTS:
LAUNCESTON, NORFOLK PLAINS, CAMPBELL TOWN, OATLANDS, OYSTER BAY, CLYDE, NEW NORFOLK, RICHMOND and HOBART TOWN
V.D.L. Co's GRANTS:
WOOLNORTH, CIRCULAR HEAD, HAMPSHIRE HILLS, MIDDLESEX PLAINS, SURREY HILLS and land in three islands named TREFOIL, WALKER'S & ROBBINS ISLANDS
TABLE:
The following arrangements for the Grants to the Van Diemen's Land Company have been determined upon.
Acreages are given for the above listed areas in all totalling 350 000 acres.
The information is superimposed on a topographic base with relief shown by hachures. The map carries notes on vegetation and soils and some historical notes on discovery.
REFERENCE
Not in Tooley. Appears in The printed maps of Tasmania
F 1517
Key Dates
1828 - 1830

Situation date

15 February 1832

Map Publication Date
Institutional and Other Holdings
Library of Congress, Geography and Map Division
Mitchell Map Collection, State Library of New South Wales
State Library of Victoria, Rare Books
The University of Melbourne Library, Special Collections
Published resources
Books
Bischoff, James, Sketch of the history of Van Diemen's Land, illustrated by a map of the island, and an account of the Van Diemen's Land Company, John Richardson, London, 1832, 260 pp. Details
Tooley, Ronald Vere, Printed maps of Tasmania, 1642-1900, Francis Edwards Ltd, London, 1975. Details
Tooley, Ronald Vere, The mapping of Australia and Antarctica, Holland Press, London, 1985, 649 pp. Details
Images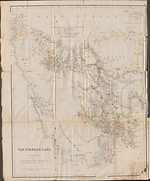 Title

Van Diemens Land, 1832/1

Type

Map

Repository

The University of Melbourne Library, Special Collections
Dorothy F. Prescott
Created: 3 August 2010, Last modified: 5 April 2013