Map State

Map and Chart of the West Coast of Australia 1841/1

Map and chart of the west coast of Australia; from Swan River to Shark Bay including Houtman's Abrolhos and Port Grey from the surveys of Capts. Grey, Wickham, King and from other official documents / compiled by John Arrowsmith. Scale [ca. 1:1 600 000] 1in. = 25 miles. London, Pubd. 21st Novr. 1841, by John Arrowsmith, 10 Soho Square. 2 maps on 1 sheet : 64.0 x 49.5cm.
Insets: Peel Sound. -- Warnbro' Sound. -- Port Grey.
With:
The country from Gantheaume Bay to the River Arrowsmith on the scale of original survey of Captn. Grey. Scale [ca.1:950 000 calculated on 1 degree of latitude].
S 27° 40'-S 29° 40'/ E 114° - E 115° 30'.
SHEET EXTENT:
S 24°05--S 32°10'/E 112°35'--E 120°
Description
Shows
TITLE:
This chart is a later version of one published the previous year, i.e. 1840 with the title Australia from Swan River to Shark Bay embracing Australind with Port Grey from the surveys of Captn. Grey and other official documents / drawn by John Arrowsmith which see
PLATE NUMBER:
The map has been found as an unnumbered plate [61] in a British Library copy of Arrowsmith's London Atlas (Preface 1847). In this atlas this plate precedes The maritime portion of South Australia
INSETS:
Peel Harbour surveyed by Lt. J.S. Roe, 1839. Scale [ca. 1:10,560] 1mile = 6 inches -- [Warnbro Sound]. Scale [ca. 1:46 000] 1 mile = 1.25 inches-- Plan of Port Grey or Champion Bay surveyed by Captn. Wickham R.N. 1840. Scale [ca. 1: 26,822] 1mile = 2.25 inches.
COUNTIES:
MELBOURNE, GLENELG, GREY, CARNARVON, TWISS, VICTORIA, DURHAM, LANSDOWNE, PERTH, YORK, HOWICK and BEAUFORT
DISTRICTS:
VICTORIA
EXPLORERS' ROUTES:
George Grey
HYDROGRAPHIC SURVEYS:
Phillip Parker King, John Wickham and John Septimus Roe
REFERENCE:
T [131a]
F 3228 Grey, George Journals of two expeditions in northwest and Western Australia during the years 1837, 38 & 39 …. London: T & W. Boone, 1841. Map in pocket of v.2. In some copies it is found at the end of v.1.
NOTES
For this second state of Australia from Swan River to Shark Bay Arrowsmith has added, preceding the original title, a short comprehensive title embracing both map and chart.
The states of the map are basically the same with the removal in the second state of the word 'Australind' from the phrase 'Australind & Port Grey'. This was an error on Arrowsmith's part as the location of Australind is just north of the present day Bunbury.' This means that it does not appear on this map as it lies south of the present limits of this map. However in this second state much more nautical information is provided by the three insets.
Key Dates
1837 - 1840

Situation date

21 November 1841

Map Publication Date
Institutional and Other Holdings
British Library Map Library
Mitchell Map Collection, State Library of New South Wales
Monash University Library
National Library of Australia Map Collection
Royal Geographical Society
State Library of Western Australia
The University of Melbourne Library, Special Collections
Published resources
Books
Images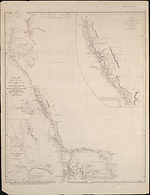 Title

Map and Chart of the West Coast of Australia 1841/1

Type

Map

Repository

National Library of Australia Map Collection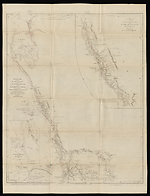 Title

Map and Chart of the West Coast of Australia from Swan River to Shark Bay

Type

Map

Repository

The University of Melbourne Library, Special Collections
Dorothy F. Prescott
Created: 9 September 2010, Last modified: 28 August 2013